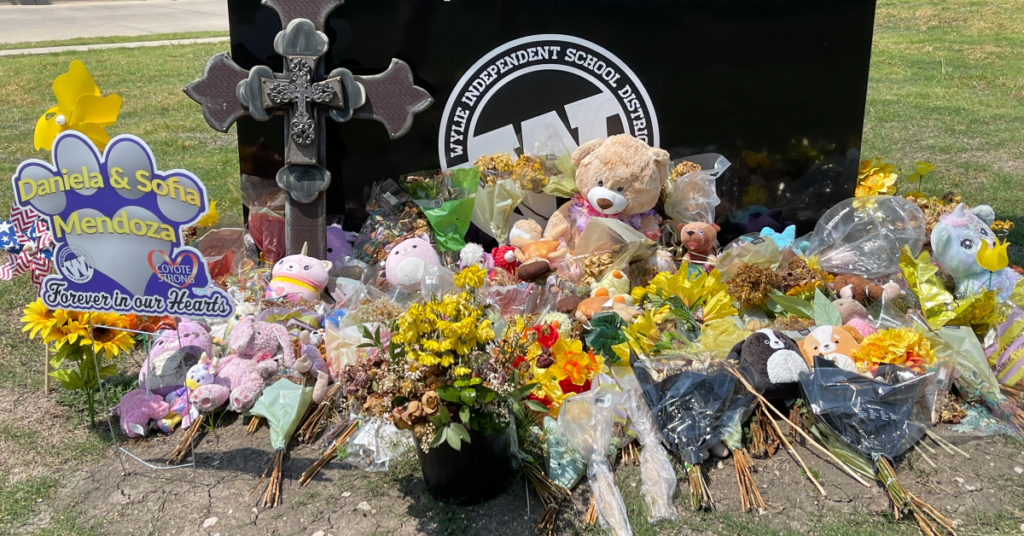 They gave all so we don't have to. But that doesn't mean we don't have to give something. What that is and how we do it, sometimes I'm not sure.
It's Memorial Day. Today we pay reverence to generations of American men and women who have fallen across the great seas and stretched earth with their shields held up everlasting. Warriors in a world plagued with violence giving everything in the fight for a chance to gift us peace at home. A chance.
The importance of this day is hardly lost on anybody, it seems. Thank goodness.
My daughter and I used the day off to go for a bike ride in our neighborhood. In my bag, we packed water, snacks, books, and my wallet for a stop at the coffee shop. We grabbed our helmets, aired up our tires and went on our way, this time skipping the trails and trees and opting to ride by Cox Elementary instead. Claire wanted to pay our respects at the memorial set up for Sofia and Daniela – the two little girls who were taken by a splinter of that violence-plagued world that slipped through the cracks.
As we pulled up to the memorial, we dismounted our bikes and walked up toward the spot covered in yellow flowers and weathered teddy bears. We removed our helmets, quietly reflecting – each of us – neither saying a word until we walked back to our bikes.
I'm not going to share our conversation, nor our feelings in that moment, but I have never greater understood the need for us to do something. To act and to create the change here that our fallen gave us the opportunity to, but also expected us to. It is our half of the equation for peace. They didn't give us a silver platter.
Find us in these places and get updates and stuff